Odegbami: Lessons From Gernot Rohr's Ingratitude To Nigeria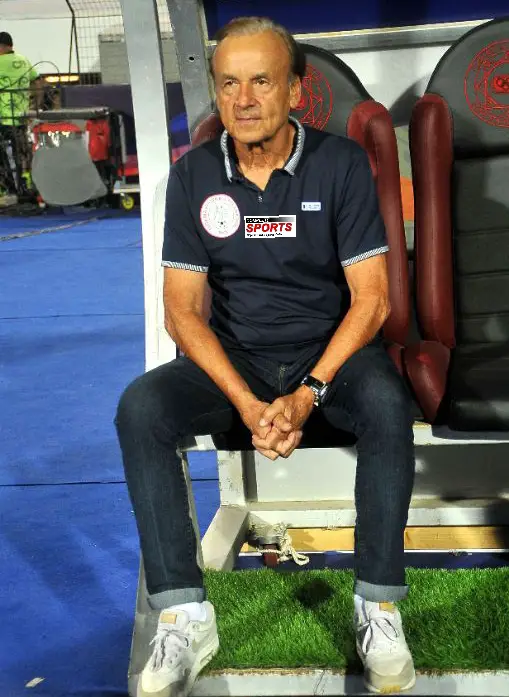 Unfortunately, the subject of Gernot Rohr, once thought buried in our history, has resurrected forcefully again into the consciousness of Nigerians.
This past week the Nigeria Football Federation was ordered by FIFA to pay the former coach of the Super Eagles, Gernot Rohr, the whopping sum of about $377,000 US for the six months period that was left of his 6-years contract when he was fired some months ago. It was just and proper.
Hiring and firing coaches is routine in the world of football. In that world there are more coaches being fired than there are stable ones tied to one team.
Coaches are even fired for reasons other than for losing matches – poor relationships in the locker room, uncomplimentary racist remarks to their players, being at loggerheads with star players in the locker room, mistreating a member of his technical crew, and so on.
There are a thousand reasons why coaches get sacked, beyond their failure to deliver trophies and medals.
Also Read: Reasons Peseiro Is Most Favoured To Land Super Eagles Job
In short, there is nothing special about firing an unproductive coach as was the case with Gernot Rohr who failed in five and a half years to win any Silverware with the Super Eagles.
So, he was fired and offered the promise of his 6 months wages in lieu of the sack. Instead of being grateful to the country that gave him opportunity to get an international appointment, that elevated his football credentials and profile, that paid him stupendous wages that he never earned or deserved with his limited credentials, he went ahead and took the NFF to the court of FIFA seeking additional compensation for 'wrongful' termination of his contract. Pure balderdash?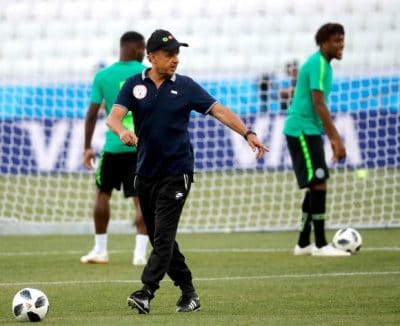 It was a demonstration of the worst form of ingratitude. Except of course, if there was more to the whole matter than met the eyes. A microscopic examination of the entire Gernot Rohr chapter in Nigerian football history would have revealed the true picture of his relationship with those behind his engagement in the NFF. It is easy to conclude that there must be more to the sack than meets the eye.
Gernot, obviously, saw Nigeria as a mumu country to be milked. Otherwise, how would he have had the audacity to do what he did? Three years ago, with the threat of sanctions that never existed in his contract, Nigerians set aside all their misgivings about his competency and gave him a second life-line with a new contract. His employers insisted Nigeria would be heavily sanctioned if he was sacked at the time because of clauses in the contract that tied inextricably to the Super Eagles.
He still did not deliver and his employers, the NFF, kept defending his 'failures' by selling the yarn that he fulfilled the mandate they gave him to qualify the country for specific stages of AFCON and the World Cup. They limited the mandates to unacceptable minimum levels, kept him as coach, and agonisingly 'killed' Nigerians with poor results.
We were so 'mumu' that the German coached from Europe. He remained in Europe for most of the 6 years watching matches involving Nigerian players, identifying those he invited for two or three days to play matches, lost several of the ordinary matches in Africa, and still collected humongous wages that could have funded huge developments in Nigerian football of local coaches, grassroots players, and so on, more profitable ventures than sustaining what now looks like a financial racket.
If FIFA had agreed that there was a good cause for compensating the man, he would have taken away $1 million US that he was asking from the NFF. Now his game is up.
The Sports Ministry has stepped in to stop what would have been a return to the same old failed system of hiring unknown European coaches, entering into stupid contracts with them that would not be known to the public, sustaining a regimen of secrecy and financial fleecing, feeding those involved in the bogus contracts, and leaving the rest of the country holding on to the wrong side of the stick.
The Ministry now insists on transparency, probity, and equal opportunity for all interested known-coaches with pedigree to contest for the Managership of one of the most prized assets in African football – the Super Eagles.
There is, therefore, a hidden blessing in this whole Gernot Rohr saga. The country cannot be taken for a ride again any more as was done in the past by a future NFF regime. The decision of the Sports Ministry to step in and halt the slide is a clear signal.
Also Read – Odegbami: The Military In Nigerian Sports – An Unhealthy 'Divorce'
The excuse that the coach will be paid by a private organisation does not mean throwing integrity and probity to the dogs, and holding a country to ransom through the worst contract ever drawn in the history of football. So, even in the case of private sector funding a good contract with a good exit clause for the country must be in place.
The next coach of the Super Eagles must have good credentials. He must be given clear mandates that include trophies. His contract must contain clear and simple clauses that can be applied without pain to Nigerians.
The coach must not live in Europe and pretend to be coaching the national team when all he is doing watching league matches from the comfort of his home in Europe. His exposure must be more than to only Europe-based players that cannot hold their own against teams in Africa. He must have a hand in developing the domestic game in Nigeria.
A new coach, if he has to be foreign, must have a good knowledge of the peculiarities and psychology of African football, and how to handle African teams and win in Africa.
Nigeria must not hire any of the unknown coaches galivanting from one African country to the other with their colonial mentality superiority attitude.
Personally, I am contented with giving qualified local Nigerian coaches the opportunity to handle the national team, probably 'fail' a few times, but gathering valuable experiences in the process, and building a base for the final elimination of the last vestiges of colonialism in African football that promotes White supremacy in a simple game such as football.
Segun Odegbami
The post Odegbami: Lessons From Gernot Rohr's Ingratitude To Nigeria appeared first on Complete Sports.
Related Stories